SONAR - say goodbye to complex reporting on your digital marketing
Is your company active on several digital channels, but you're not sure how well or how badly you're performing online? Is the reporting you see on your online activity needlessly complex? Does it lack any link with your KPIs? With SONAR, Living Stone can offer you real-time insight into the effectiveness of your digital marketing and how it contributes to realizing your ambitions, without any extra complexity.
What SONAR offers
A SONAR analysis provides a global view of what has taken place in your digital ecosystem during a given period, and identifies important trends (what happened on which channel, for example). It presents precise information about cause and effect, analyzing specific data from diverse channels separately.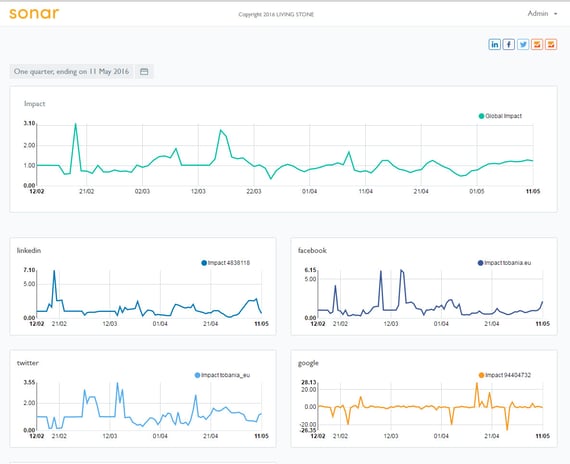 What you'll learn from SONAR reporting
Quarterly reporting or reporting on demand on your digital marketing, based on a real-time dashboard that shows you:
how much visibility (Opportunities To See) you've created with your (public and professional) target audiences
how much impact you've created and what role the channels you used have played in this
how the impact of your efforts has evolved over time
how your public handled your information on different channels
Supported by Flanders Innovation Agency
Following the success of SONAR's introduction in the beginning of 2016, Living Stone partnered with SIRRIS, the collective research center for the technological industry in Belgium which helps companies develop, test and effectively implement technological innovations. Together with SIRRIS and SONAR's development partner, Living Stone has outlined the challenges ahead for SONAR in its current format. To help develop the best strategy to bring SONAR to maturity, the Agency for Innovation and Entrepreneurship (AIO), the government agency charged with implementing economic, innovation and enterprise policy in Flanders, has granted its support.
The AIO study will explore the development priorities of SONAR, taking into account the challenges organizations are facing with regards to real-time, consolidated dashboard reporting with aggregated data. A key focus will be on how to link strategic goals (KPIs) with reporting on digital marketing performance. Current users of SONAR and new contacts are invited to participate in the study. The data provided through SONAR will be used as the test base to refine parameters, technologies and channels.